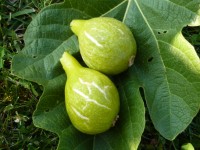 The exact origin and identity of this tree is not known in the ancient world. Desert King comes from a fig tree found in 1930, near Madera, California.

This is a fast growing tree with long and erected branches that the foliage is unable to completely cover, giving the tree a little "bare" appearance. In Spring, to force the tree to produce new ramifications and to prevent it from rising up too rapidly, the terminal buds of few ramified, but strong, branches must be pinched. The result of this pinching is that two or three new lateral branches will appear and will probably already bear new fruits next year.

The resistance to cold is quite good, as the fruit buds resist well to Winter frost, and to sudden temperatures changes in Spring. It has some resistance against wind, but in very cold, rainy and windy Springs, breba may significantly fall.

This fig tree produces brebas with excellent organoleptic qualities, of average size, melting in the mouth and very sugared. At complete maturity, the skin color changes from light green to pale yellow.

The fruit resists relatively well to rain showers, but can split in case of long rain periods. It is earlier than most breba varieties by about two weeks, with a fruiting duration that lasts two to three weeks and usually starts in the middle of summer.

This fig tree also produces a main crop of small figs, of medium quality, which usually drop. In fact, this second crop may only succeed in warmer regions where the Blastophaga Psenes, the insect pollinator responsible for caprification, is found.

Occasionally, one fig amongst many others may develop as if it were pollinated by Blastophaga Psenes. In this case, the fruit is really different; it is pyriform and flattened and has dark strawberry pulp. The organoleptic quality of the fruit is exceptional; melting texture, taste reminding of mulberry and strawberry, higher sugar content than the breba fruit with seeds that are felt in the mouth but remaining very pleasant. Finally the fruit possesses a medium skin size and weighs about 47 gr. Unfortunately, this behavior is observed much too rarely.

If the tree becomes too tall and large, and that trimming is envisaged in Spring, do not trim back all terminal branches because it would mean annihilating the entire breba crop; ideally trim one branch out of two or out of three.

To conclude, this fig tree is highly recommendable for its early crop, excellent and numerous brebas fruits, and the good resistance to cold.